My business partner and I evaluated a home of a couple who lives in Silicon Valley.  The woman was going in for surgery because she was suffering from ovarian cancer.  The discovery of our home survey was striking.  She was sleeping on two types of earth line crossings, both at the area of her ovaries.  (See drawing below.)
In addition, there was an electronic mess behind her bed.  The readings of electromagnetic fields on the upper part of the bed (near the head and upper body) were high. Influence factors include the cord clock radio, cordless phone charger with 110V/12V transformers and the unshielded wiring of the electric installation.
The electromagnetic fields were reinforced by the metal bed and the coil-spring mattress. The headboard measured values beyond the international recommended threshold of 2 milliGauss.  In addition, on the left side of the bed, the readings in the head area are over 20 V/m.
We recommend her to:
Replace the 110V clock radio with a battery driven alternative.
Move the cordless phone at least 4 feet from the body at night. Regarding the exposure to high frequencies from the phone at night, it would be advisable to ban it from the bedroom altogether.
The wiring of the electric installation appears to be unshielded, which means it does not have an earthed metal coating. Ideally there would be an integration of a demand switch which shuts down all electricity at night.
Replace the metal bed frame and the spring mattress with non-metal alternatives. The metal bed holds and reinforces the EMF from installations. As long as the demand switch is not in place and the electric cables are not properly shielded, the radiation effects are strong.

Consider relocating the bed to the opposite side of the room as indicated in the drawing.  If she didn't want to do that we suggested moving it 2 feet to the right so as to avoid the crossings.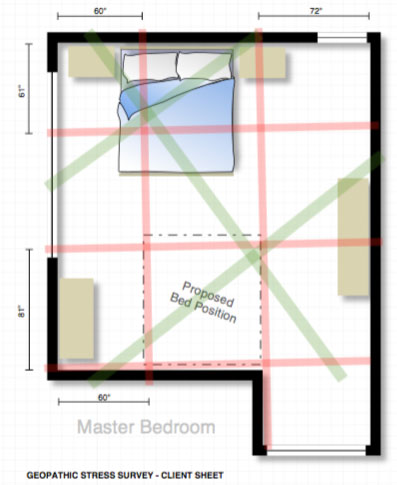 https://www.hackingsimplicity.com/wp-content/uploads/2016/12/sacredspaces_banner.png
229
660
AnneMarie
http://www.hackingsimplicity.com/wp-content/uploads/2016/11/HackingSimplicityLogo.png
AnneMarie
2015-05-03 17:24:10
2016-12-11 17:37:51
Building Evaluations: Ovarian cancer (case study)